Day and evening appointments are available Monday through Friday and some Saturdays.
First time clients please come ten minutes early to complete a health history form.
If a client is unable to keep an appointment, a 24-hour notice is requested.
For questions or to order products, call: 617.610.1758
Or email:
jill@grignaffinimusculartherapy.com
Now accepting credit cards:

Jill's office is ADA and elderly accessible, and has on-site parking. Her massage table can be raised and lowered to accommodate patients with a limited range of movement.
The handicap entrance and elevator are located in the back of the building.
Map and Directions:
148 Linden Street
Suite 201
Wellesley, MA 02482
View Larger Map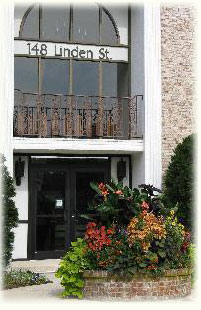 From Route 9 East and West bound
Take Weston Road Exit towards Wellesley Center
Follow Weston Road
Take Left on to Linden Street
Bear left at traffic lights, staying on Linden Street
The building is on the left, just before traffic lights
From Washington Street
from the east
Take a right on to Kingsbury Street, just after the Mobil Station
Once over the bridge, take a left at the traffic lights on to Linden Street
The building is on the right, just after the 2nd set of traffic lights
from the west
Just after Pete's Coffee, take left on to Crest Road
Once over the bridge, stay right and this becomes Linden Street
The building is on the left, just before the traffic lights