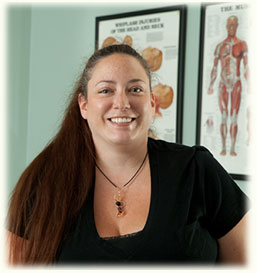 Jill Grignaffini is an American Massage Therapy Association (AMTA) accredited muscular therapist, with over 10 years of experience helping people move better and more comfortably.
Since 2001, Jill has developed more than just skills and technique; she has used her practice to develop deep and lasting relationships with her clients—customizing treatment plans based on individual needs to help patients live pain-free lives.
This personal touch and connection—coupled with an ongoing dedication to education and training—allows Jill to deliver results for her clients.
A graduate of the Muscular Therapy Institute, Jill is certified in a variety of modalities, each with a specific client benefit. By utilizing these combined methods, Jill is able to address and relieve a variety of symptoms and conditions.
Jill is trained and certified in Pre- and Perinatal Massage, Orthopedic Massage, St. John Neuromuscular Therapy, Core Advanced Myofascial Therapy, Core Sports Massage, Scar Tissue Release and Kinesio Taping.

Jill is a member of the American Massage Therapy Association. www.amtamassage.org

Connections for healing
Over the years, Jill has formed strong and lasting relationships with select professionals and providers. Through this network, Jill is able to extend the reach of her care, so that she can provide her clients with treatment options beyond her sphere of expertise and study.
Julie Freeman — Licensed dietitian
Telephone: 781-237-9016
Other connections
Laurie Coombs R.E. — Electrolysis and LHE Permanent Hair Removal
www.lauriecoombs.com
Jill is a graduate of Landmark College.
www.landmark.edu
Jill's website was designed by Rachel Pearson Design.
www.rachelpearsondesign.com
Jill's website was written by Frank Colagiovanni.
www.colagiovanni.com
Most photographs on this site were taken by John McMahon.
www.jpmphotography.com